About Conboy Training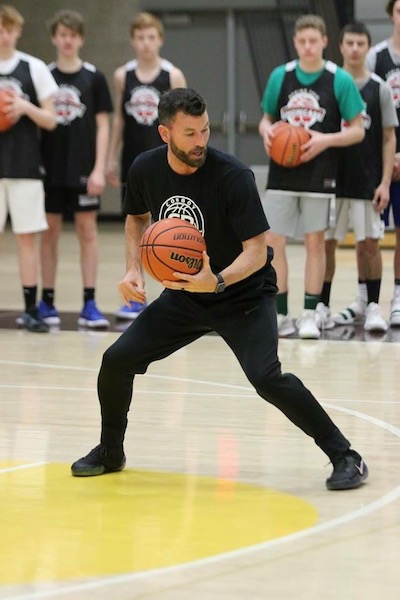 The Conboy Basketball Player Development Training Program's goal is to develop the participant into the best basketball player they can be using the same intense, progressive techniques taught at the collegiate and professional levels. The program is an individual, small group, team, or coach training curriculum based on the skill set(s) and needs of the participants. The goals of this program are to develop individual basketball skills, confidence, and overall understanding of the game. Each player or group receives a specifically designed program developed by Matthew Conboy or another Conboy Basketball staff member based on his/her/their abilities, desires, and experience. We are prepared to cover every aspect of the game.
Each session is individually scheduled based on the participants personal schedule. We will develop a program based on the participants input or simply prepare the training session(s) from our own experiences with the age level of the individual or group. Each session lasts 60 to 120 minutes and the player or group may register for as few or as many as they desire; although we recommend that any individual or group deciding to take part in the Conboy Basketball Player Development Training Program register for at least 10 sessions to ensure the necessary time needed for the player to understand, develop, and improve their skill set.
Example of Skills Covered/Learned:
Shooting Mechanics (off catch, off dribble), Jab Step Series, Dribble Separation, Weak Hand Development, Finishing, Advanced Dribble Scoring Methods, Moving Without the Ball, Post and Perimeter Work, 2 and 3 Man Game, Triple Threat Separation, Footwork, Seeing the Floor, Conditioning, Defensive Work, Team Chemistry, Leadership, Basketball IQ, and much more.
We offer our training sessions in Portland/Vancouver but can also travel to you!
PERSONAL TRAINING:
These sessions are for players who seek 1 on 1 attention to maximize their skill development. These workouts are designed to replicate the pressure of game speed situations and assist in the execution of basic and advanced fundamentals under that pressure. We encourage our athletes to get out of their comfort zones and make mistakes as a part of the learning and developmental process.
SMALL GROUP TRAINING:
Small group training allows players to work on their skill development in an intense and forward thinking atmosphere. These sessions contain the same fundamental curriculum and concepts as the 1 on 1 workouts but allow for situational competition and workout variations. Small group workouts typically consist of 2-6 players.
TEAM TRAINING:
Teams rarely focus on individual skill development, instead, their primary focus is on the offensive system being ran, but if you can't pass, can't pivot, and can't dribble, it doesn't matter what offense is run as even the best of those systems are ineffective without execution of proper fundamental skills.
Team training sessions are geared toward developing individual skills within a team environment using that team's concepts and philosophies.
We have and currently work with teams ranging from: youth, middle school, high school, AAU/Club organizations, college programs, and professional teams.
COACHES TRAINING:
This option is tremendous for a coaching staff or youth basketball organization looking for an edge over the competition. Bring us in to increase competency and overall knowledge for individual player development and to re-energize your program or organization. Gain new concepts, drills, techniques and teaching methods to incorporate skill development into your daily practice plan or off season workout programs for your players.